> Retourner / Back to view all VIP Keyholder perks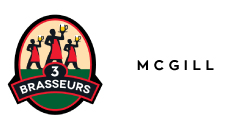 Détenteur Avantage VIP:
Présentez votre Clef dans tous les 3 Brasseurs de la grande région de Montréal et profitez d'un plat dégustation, accompagné de ses bières brassées sur place. (Valeur de 20 $)
Keyholder VIP Benefit:
Show your Key to your server at any 3 Brasseurs location in Montreal and area, and be treated to a VIP loyalty-love, complimentary selection of our 'brewed-on-site' beers and paired-food selections. ($20 Value)

L'IMPRESSION FIN / THE FINE PRINT:  Les 3 Brasseurs McGill welcomes Keyholders from all cities. *** This perk is applicable to all visits. This VIP loyalty perk is rewarded at all Les 3 Brasseurs locations in Montreal and Toronto areas with every dine-in experience, all year. Perk requires purchase. Keyholder must be 19+ years of age unless non-alcoholic perk is chosen. VIP Benefit has no cash value. VIP benefit may not be combined with any other offer. Les 3 Brasseurs reserves the right to substitute VIP perk with one of equal or greater value. VIP Benefit is subject to change but this notification page is current, always. Enjoy all Les 3 Brasseurs locations in Montreal and Toronto with this great instant loyalty perk on every dine-in visit throughout the year – return as often as you wish. Loyalty is Key with Les 3 Brasseurs.
"]